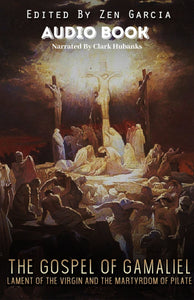 The full audio recording of the Gospel of Gamaliel.
Narrated by Clark Hubanks
Listen to the Preview below: 
The brother of Nicodemus, like him Gamaliel was part of the Pharisee leadership which ruled over the Jewish people during the time of Christ. But unlike Ananias and the high priest Caiaphas which conspired to murder of Yahushua, he and his brother believed that Christ was the son of God. This manuscript reveals in detail the story of Yahushua's ministry, persecution, crucifixion, and resurrection as witnessed by the apostles and Virgin Mary. It follows up with the story of Pontius Pilate's martyrdom for allowing the Pharisees to incite him to murder what was obvious even to the Emperor Tiberius and his wife whose son was resurrected by Christ that He was indeed God incarnate. This text will help those that are interested in the passion of Christ to a more elaborate understanding of what occurred surrounding the events of those days.