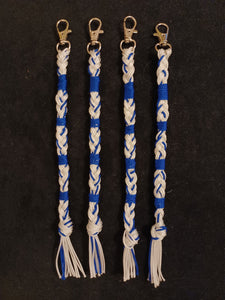 These tzit tzits are made with strong paracord to make them heavy-duty. Traditional in color, blue and white, they are approx. 9in. long with metal clasps for easy attachment. Great for those in manual labor or for those that like a thicker look!
Set of 4 : $40
About the Tzit tzit makers: 
Jake and Ciara Grant married in 2019 and have been blessed with two daughters. They enjoy traveling across the country to visit different ministries and assist in their growth. Currently, the Grant Family is based in Kentucky, where they both work from their home.