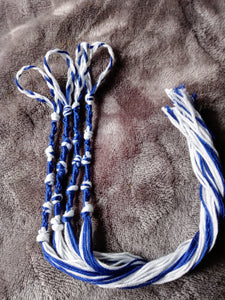 **This item cannot be shipped outside of the US.**

Royal blue and white tzitzyot made with 100% cotton threads. About 12" long.
About the Tzitzyot maker: 
I'm a mother of two adult daughters and a grandmother of one. I began pursuing Torah in 2016, not long after having my paradigm completely smashed by flat earth truth.
When I'm not busy making tassels, I spend my time volunteering for a local animal charity where I help people in my community to spay and neuter their pets and provide dog and cat food for those who need a little assistance. I also enjoy blackwork embroidery and crochet when time allows. 
It is my great honor to serve the Most High by making tzitzyot for his children! They are not only a beautiful reminder to guard his set-apart ways, but also a marvelous way to contribute to the kingdom work happening at Sacred Word Publishing! Thank you for allowing me to so humbly serve!