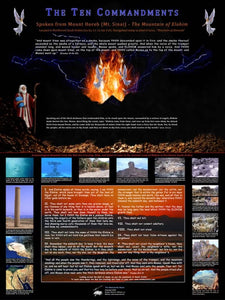 The first of its kind 10 Commandments Poster that attempts to capture the awful grandeur of the giving of the law at Jebel el Lawz in Northwest Saudi Arabia as YHVH descended upon it in a flaming fire with his holy angels and enveloped by a thick black smoke . The broader context of the giving of the law describing the scene is included. I have utilized the sacred name for "God" and Elohim for "Lord" in the text. Also included, are pictures showing several artifacts from the Red Sea Crossing site at Nuweiba Beach and the area surrounding Jebel el Lawz, (Mountain of Almonds), otherwise known as Mount Horeb, or Mount Sinai.
I find it most significant that the mountain where YHVH spoke his word should be a mountain of "almonds" for almonds in the Bible are figurative of the Word of Elohim.
"Moreover the word of the YHVH came unto me, saying, Jeremiah, what seest thou? And I said, I see a rod of an almond tree. Then said the YHVH unto me, Thou hast well seen: for I will hasten my word to perform it." Jer. 1:11,12
The bowls of the seven branch candlestick were in the form of "almonds." (Ex. 37:19,20) The Candlestick is represented of the word of Elohim. "Thy Word is a lamp unto my feet and a light unto my path.- "Thy Word is a lamp unto my feet and a light unto my path." (Ps. 119:105)
The Rod of Moses, called "the rod of Elohim" that Aaron used to perform Elohim's signs with in Egypt was a rod of an almond tree. The rod that "budded, and brought forth buds, and bloomed blossoms, and yielded almonds." (Num. 17:8) This is one more piece of evidence confirming that Jebel el Lawz, the "mountain of Almonds" in the ancient land of Midian where Moses fled to in northwest Saudi Arabia, is the REAL Mt. Sinai.
- Robert Williams